Jonas Salk's Contributions
-- He established that noninfectious vaccines could protect against viral diseases, contrary to Pasteurian dogma that infection with "a living principle" is required.

-- He proposed a novel "therapeutic vaccine" approach to control AIDS.

-- He established the Salk Institute for Biological Studies, one of the preeminent biomedical research centers in the world today. [About the Salk Institute]

-- He set the stage for the development of psychoneuroimmunology.

-- He published books and essays about human life and the nature of evolution.

-- His collaboration with the architect Louis Kahn established a new direction in American architecture. [American Institute of Architects Award]&nbsp[Salk Institute Buildings]

-- His archived papers are one of the largest collections of a contemporary scientist. They contain scientific and philosophical writings, correspondence, historical and administrative documents, photographs, books, magazine and newspaper articles.

For questions, comments or problems with the website, please email: Webmaster@Jonas-Salk.org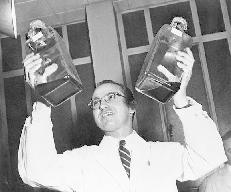 What We Do
The Jonas Salk Center, representing the family of Jonas Salk, manages his historical and educational legacy. We provide resources for both students and professionals. In appropriate circumstances, through Jonas Salk: Licensing, we may arrange for permission to use copyrights, rights of publicity or other intellectual property.